Hi! Welcome, to the Award Winning Catbytes!

Wait a minute....did I just say "Award winning"?!

Well that's right, we won an award!

I just somehow let that cat out of the bag ;)
Come to one of our friendly drop-ins to get support using your device or filling in an online form. Here is a full list of the digital drop-in clubs we are running round the borough. More will be added shortly, so keep checking this page for updates.
Time
Every Monday at 13:00 till 15:00


Location
St Mauritius House
65-67 Lewisham Park
SE13 6QX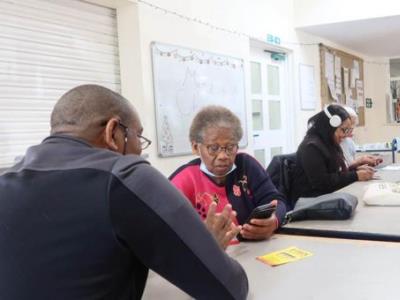 The Lewisham Pensioners' Forum digital drop in runs during the weekly Monday Club at St Mauritius House in Lewisham Park. Here you can get help with Whatsapping and emailing from our friendly buddies. We have free wifi, and a few spare tablets you can borrow, although learners tend to bring their own devices.
The club also features other activities you are welcome to join in with, such as knitting, jigsaws, healthy eating, ukelele playing and origami.
Time
Every Tuesday at 13:00 till 15:00


Location
Catbytes CIC office
Ewart Hall
SE231HN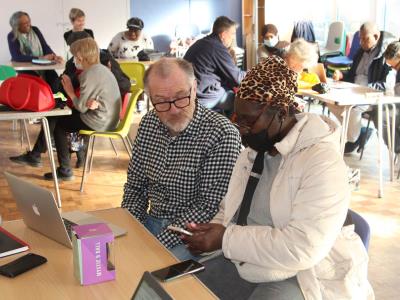 The Ewart Hall Digital drop in is run in the hall next to Catbytes' office. So it is a good place to come if you don't have a device to work on, as we have plenty. We can also provide services like printing, and even have volunteers on site who can do fixing on your computer. Apart from that, we have excellent wifi, a garden, tea and coffee, and sometimes biscuits and cake.
Time
Every Wednesday at 10:00 till 12:00


Location
Phoenix Community Housing office
The Green Man
SE6 2RP
The Green Man hub is the headquarters of Phoenix Community Housing. It is situated opposite the Homebase in Bellingham. It is a modern and well lit community hub with facilities for supporting Phoenix tenants with a wide range of housing and employment needs. However, the digital drop in is open to everyone, not just Phoenix tenants. p
There is also a cafe on site. Volunteers can eat there for free after the session.
Time
Every Wednesday at 10:00 till 12:00


Location
999 Club office
21 Deptford Broadway
SE8 4PA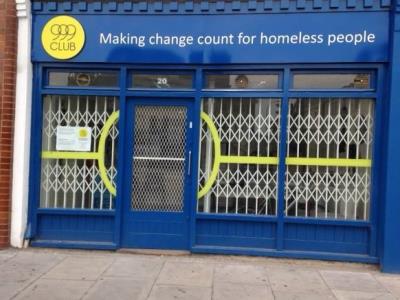 The 999 Club is a Deptford based charity supporting homeless people. They have opened a new digital hub on Wednesdays which is open to the public - not just their regular clients. You can get help from buddies with your digital queries. There are also computers available to work on if you don't have your own.
Time
Every Wednesday at 12:00 till 14:00


Location
St Peters Brockley
Wickham Rd
SE4 1LT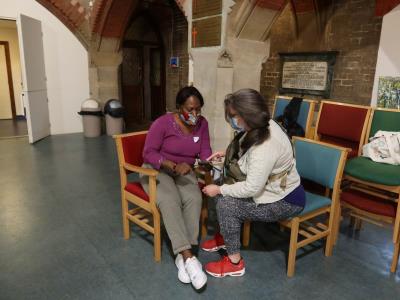 St Peter's Church in Wickham Road, Brockley, has a social supermarket, which runs every Wednesday. The supermarket provides free food to its members, and is also a social hub. You can get support using your device here every Wednesday from 12pm to 2pm.
Time
Every Thursday at 11:00 till 13:00


Location
Telegraph Hill Centre office
Kitto Road
SE14 5TY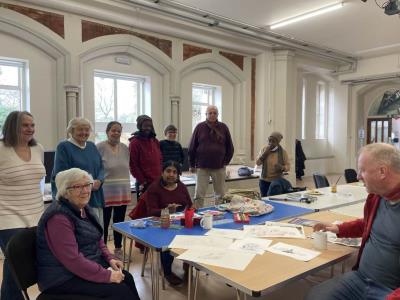 Branching Out is a joint project between St Catherine's Church and the Telegraph Hill Centre, whose aim is to offer a space for people over 55 to take classes & try something new, connect with others and/or have a simple cuppa & chat.
There will be a digital buddy present to help you with these queries at the session
Time
Every Friday at 10:00 till 12:00


Location
Stanstead Lodge
260 Stanstead Rd
SE23 1DD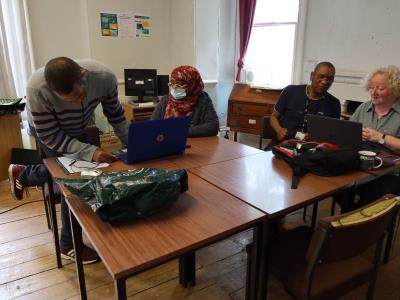 The Stanstead Lodge Digital Drop in has been running since 2018. We have two computers available for independent use. Tea and coffee are also provided. There is a great cafe, The Phoenix, downstairs, if you are feeling hungry after the session has finished.
Time
Every Friday at 10:00 till 12:00


Location
St Luke's Church, Downham office
Northover
BR1 5JR
The Front Room Club is a cafe style drop in for those who are experiencing or at risk of social isolation and provides a safe, welcoming and supportive place to grow. The club is a place to meet people, access support and advice, develop social and practical skills, and talk about mental health challenges.
We now have digital buddies from 10am to 12pm to help you with your digital queries
You can get a lovely two course lunch for just £3.00